News
Children in Mauritius – free childcare over 3 years old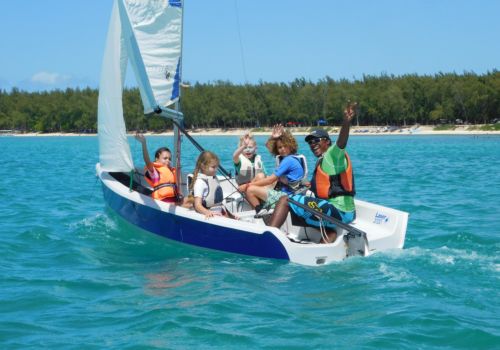 If you are looking for a sun drenched break from the Northern European winter weather AND you wouldn't mind some time off from your youngsters too then our Mauritian centre may be just what you need.
Younger children will love the on-site Kids Club (available for 3 to 12 year olds) in the hotel grounds with an experienced team who will entertain and look after your youngsters from 9 am to 4 pm (including lunchtime) leaving you free to spend the whole day sailing or whatever you prefer. The club is air conditioned as well as having a lovely outdoor play and garden space.
The kids will have great fun fishing and exploring the local beaches too – and there is a great selection of other games and activities including a table tennis and pool table – and of course a dedicated shallow end of the hotel's swimming pool. There's also a tennis court available (with lights for evening play) and a glass bottomed boat, pedalo and kayaks for free expeditions.
Children over 7 years old are also welcome to join in the sailing programme – we offer the complete range of RYA youth courses – take a look at our RYA certificate. The Wildwind team in Mauritius have a huge amount of experience teaching children of all ages and, of course, learning to sail in the warm waters of the Indian Ocean makes even falling in a heap of fun!
We can also organise baby sitting for children of any age for you – just let our team know when you arrive and we'll make arrangements with you with a local agency.
As you'd expect there are substantial discounts for children* with no charge at all for kids under 4 years old, and discounts of between 25 and 50% for children under 12 years old depending on whether they are sharing a room with their parents or not.
Depending on date of travel, and taking advantage of our current 10% discount offer valid until the end of November, prices start from around £1,600 including British Airways flights**, overseas transfers, accommodation for 7 days on a half board basis and as much sailing and free instruction as you could possibly want. You'll also be able to exchange up to 2 day of sailing for our unique adventures programme giving you the chance to go scuba-diving, swimming with dolphins, kite-surfing and much more. For further details please see our full list of adventures here.