Price list for our sailing holidays in Mauritius
In the table below, you can find the prices of our holiday per person in Pounds Sterling (GBP). These prices do not include flights - as our clients come from all over the world flight prices vary depending on departure airport and airline but we do provide you with indicative prices in a column to the far right of the table. When you call our office we will find the best possible price to meet your requirements.
Our Mauritius holidays will resume in September. There are currently NO cases of Coronavirus on the island and the Mauritian authorities have done a great job in managing the crisis and protecting their island.
https://africanarguments.org/2020/05/28/how-mauritius-unique-political-culture-helped-it-beat-covid-19/
As many people will have missed out on their annual holiday to Wildwind in Greece we are anticipating an increase in our visitors through the northern hemisphere's autumn and winter and we recommend that you make an early booking if you would like to join us. At the moment we are taking 'pencilled' bookings without deposits. Please ask your agent for details.
Flight inclusive package holidays are fully protected under our ATOL license 9464. We are an agent for British Airways but as BA only offer direct flights 4 days a week we can also propose alternative airlines. If you have any questions about our prices, what's included, our terms and conditions or anything else, be sure to call our friendly office team on 01920 444 091 or contact us through Facebook or e-mail.
The 2021 season has ended. Check back soon for the price list for the 2022 season.
All prices are per person in Pounds Sterling (GBP) based on two people sharing a standard hotel room and include resort transfers, half board (breakfast & buffet dinner) and our unique sailing and adventures package (activities, sailing, equipment and choice of adventure). Single supplements shown are per person per night
Flights to Mauritius
As our clients to Mauritius come from all over the world the price list above excludes flights. Mauritius lies in the middle of the Indian Ocean, between the south of India and East coast of Africa. Flights from the North of Europe are around 11 hours (if direct) and non-peak season flights from the UK are around the £650-800 mark.
All Flight inclusive package holidays are fully protected under our ATOL license 9464. In UK school holidays BA flight prices inevitably jump even though our holiday prices do not: we are then able to source cheaper flights from other airlines such as Air Mauritius and Emirates who have different peak period dates.
Normally our usual payment terms will cover holiday packages including BA flights. For other flight options, such as Air Mauritius from Heathrow and Emirates from various UK airports (via Dubai), which offer more frequency and sometimes cheaper fares, particularly in peak periods, the full fare cost has to be paid at the time of booking.
Please call our office on 01920 444 091 and we will work out the best complete flight and holiday combination for you.
Room choices and upgrades supplements
Each and every room in the Coral Azur is very comfortable and has great views from the floor-to-ceiling windows or from the private balconies.
But if you would like that little bit extra then you can upgrade your room and the following supplements apply. Prices are per person per night.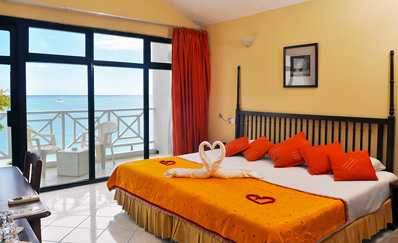 | | |
| --- | --- |
| Standard Room | £0/night |
| Deluxe Garden Room | £10/night |
| Deluxe Sea View Room | £12/night |
| Deluxe Beach front with Sea view | £20/night |
Deluxe rooms have the following additional amenities; LCD TV, free minibar (2 bottles of water/beers/cokes per day), tea and coffee making facilities, and flip flop beach shoes
Solo Travellers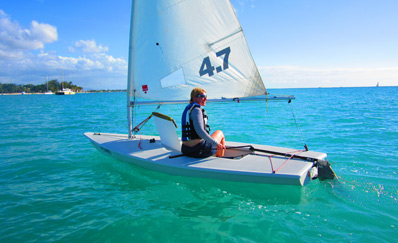 We know this is not what you want to hear, but our price lists are based on two people sharing a room. If you prefer to have a room for yourself, we have to charge a supplement per person per night, and we also need to double the room upgrade prices if applicable. Single Room Supplement charges as follows:
| | |
| --- | --- |
| 01/09/2019 to 15/10/2019 | £35/night |
| 16/10/2019 to 22/12/2019 | £40/night |
| 23/12/2019 to 10/01/2020 | £85/night |
| 11/01/2020 to 15/04/2020 | £40/night |
| 16/04/2020 to 31/05/2020 | £35/night |
| 01/06/2020 to 31/08/2020 | £30/night |
| 01/09/2020 to 15/10/2020 | £35/night |
| 16/10/2020 to 31/10/2020 | £45/night |
We serve breakfast and dinner
Our prices are based on half board, with breakfast and a buffet dinner that varies in style every night to reflect the different cultures of Mauritius. Should you not want to take dinner in the hotel there is a breakfast only option that will reduce your price per adult by £15 per night and £7.50 per child.
Children's discount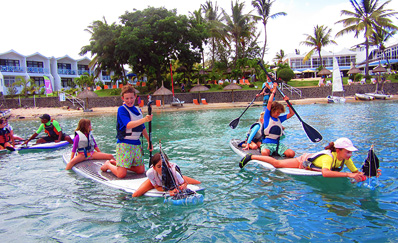 Children are very welcome on our holidays - those over 7 years old are welcome on our sailing programme - or they can join in the Kids Club. https://mauritius.wildwind.co.uk/kids-and-teens-sailing-holiday
If one or two children (under 12 years) share a room with two adults, they will receive a discount of 50% on the full programme price.
If there are two or more children sharing a room of their own they will receive a discount of 25%.
If one or more children shares a room with one adult, the child(ren) will receive a discount of 25% but the adult will pay the single supplement.
One child in a room of his or her own will be classed as an adult and not receive a discount: the single room supplement will also be applicable.
Children under 4 years old are free when sharing a room with adults.
(Note these discounts are based on the price list below and do NOT include flights)
Damage and Loss Waiver
A damage and loss waiver charge of £20 is applied for all participants of our Wildwind sailing programmes. This covers any accidental damage you may do to our sailing boats and equipment and it means you will not be charged locally for any such damage.